Run a successful Petpals franchise
Read some of the success stories in the words of our franchisees. Feel free to contact us for more information.
Success Stories from the Petpals Franchise Network
Petpals Fleet
Mum-of-two Clare Needham knew she needed a new challenge when she was made redundant in 2002.
Having worked in the IT industry for 18 years, the shock of redundancy acted as a catalyst for Clare who had toyed with the idea of setting up her own business.
She attended a franchise exhibition to explore the options open to her and was drawn to Petpals due to her love of animals and the great outdoors. Persuaded by the advantages of being her own boss, Clare took the plunge and set up Petpals Fleet in June 2002.
Clare takes up the story: "It all started really when we bought a dog to help my younger daughter, Holly, get over her fear of dogs. Millie the golden retriever moved in with us and it all tied in when I discovered Petpals at the franchise fair.
"We haven't looked back since and I certainly couldn't go back to working in an office. There's nothing to replace the outdoor life."
Over the last six years, Petpals Fleet has built an enviable reputation for excellent service whether it's dog walking, visiting cats and other small pets at home or boarding dogs.. and even a gosling.
Said Clare: "That was one of our more unusual requests. I was asked if I could 'board' a four-week-old gosling on its holiday from the farm! We get asked to do all sorts of things. One I particularly remember was when I had to feed some bearded dragon lizards while their owners were on holiday. This involved giving them live locusts, but not before they had been dipped in a vitamin powder!"
Clare and her dedicated team of pet carers work closely with the local community, including vets, the police and community groups to deliver a personally-tailored service that puts pets first.
Millie the golden retriever has been joined by Lucy the terrier cross and Esther the elderly cat, all sharing Clare's home with daughters Holly, aged 20, and 22 years old Beth.
Clare's leap into the unknown when she set up Petpals Fleet has certainly paid off as she's now one of Petpals' top-performing franchisee. And Holly has overcome her fear of dogs.
For more information on new and resale franchises please call Petpals on 01264 326362 or contact us.
Petpals Stockport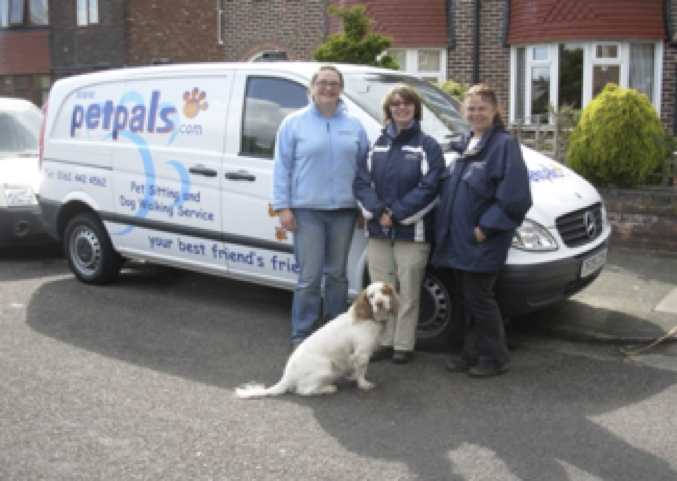 I worked for a leading mail order company for 18 years, mostly as a business analysis manager. However, I could see the writing on the wall with the traditional mail order business generally going down the pan, so I took voluntary redundancy.
I knew I didn't want to do the same thing that I have been doing previously and saw this as an opportunity to do something different. My financial adviser suggested I looked on the British Franchising Association website. That's where I found Petpals and, as I had always loved animals, I was thrilled to see there was a franchise opportunity to do with looking after animals. I was fortunate my redundancy package covered the cost of buying the Petpals franchise and the van.
I find the network of other franchisees extremely useful when it comes to asking people what they do in certain circumstances, as well as being able to bounce ideas off the other franchisees who are often in the same situation as yourself. The Petpals' Annual General Meeting is another excellent avenue for support. It gives us the opportunity to shape the business by voting on important decisions as well as sharing knowledge with other franchisees face to face.
To be successful you really do have to work extremely hard to start with – there's no getting away from it. You need to work out a strategy to deal with it, like employing staff. You come out the other side and eventually end up with a fantastic team. There are peaks and troughs but when it boils down to it, I love it!
Petpals is a full member of the British Franchising Association (BFA) and is therefore fully vetted and monitored, so it's worth checking that any other franchises under consideration are also members of the BFA. Franchises in general, and Petpals in particular, provide a network of support which can prove invaluable to people starting up in business.
Stockport has an interesting demographic mix which, while attracting a lot of competition from similar businesses, reflects a healthy market. I want to continue to provide a consistent, reliable service to existing clients as well as steadily expanding to offer friendly and professional pet services to even more pet lovers.
For more information on new and resale franchises please call Petpals on 01264 326362 or contact us.
Petpals Salisbury
Having always had a great passion for animals and coupled with the desire to run her own business, Jo Davies decided that owning a Petpals franchise was the perfect solution for her.
Before establishing Petpals Salisbury in January 2009, Jo worked in the financial world and car industry for more than seventeen years but decided that she needed a more rewarding career that included her love of animals.
'I felt a good strong brand name, such as Petpals, would be recognised by people and I would benefit from the backing and support a franchise system offers. Another factor was that there are a lot of dog walkers in my area – the feedback I get from my clients is they want to know they have someone they can trust going into their homes and with Petpals, they have a nationwide recognised name, we are police checked, uniformed and carry official photo identification' says Jo.
As with all businesses, there are always challenges to meet and overcome and Jo has had her fair share of them but Jo has faced them head on with the full support of the franchise network and head office, she said 'my fellow franchisees and head office have been an invaluable support and have always been there when I needed them and continue to be, which is one the most valuable things about being a franchisee and not forgetting a great family and friends support network. Having to deliver 10,000 marketing leaflets door to door in the first 3 months was no mean feat either!'
Jo says 'It's a fantastic idea to go down the franchise route and I wouldn't have done it without the Petpals franchise and having the brand name behind me. I think if you are really serious about making the business a success, you need a professional and credible brand name behind you in order for your clients to take you seriously. One of my immediate plans for the future is to employ staff to help support the growth of the business, having already passed my last year's target'.
Jo has been so successful that she came to the attention of Sky television producers of Liza and Huey's Pet Nation and was featured in one of their programmes visiting a range of pets including a blind sparrow! To see Jo in action please go to: http://www.youtube.com/watch?v=JSYApwsLbbc
For more information on new and resale franchises please call Petpals on 01264 326362 or contact us.
Petpals Chingford and Epping Forest
Before buying her Petpals franchise, Kerry worked for nine years as an accountant in the city of London. After being made redundant she decided she'd had enough of long commutes and 12 hour days, so started to look around at other options, hoping to find something that would give her a better quality of life. Fortuitously, Kerry's friend's mum owned the Chingford Petpals before her, so she was able to see first-hand what a great business it was and right from the start it seemed like the perfect fit for her. Since childhood Kerry had always been a big animal lover, so, after doing thorough research into the brand, Kerry took the plunge and met the Petpals Director, to discuss buying the franchise and setting up her very own Petpals business.
What is it like being a Petpals Franchisee?
Kerry has now swapped the office environment for the outdoors and spends her days walking dogs and looking after an assortment of pets – all around raising her 18-month old son.
With over 90 clients, Kerry's business is booming.
"My day starts mid-morning when I start to pick up dogs from across my area to give them 45 minute walks, after grabbing a quick lunch, I do the same in the afternoon and in between will look after any pets that are boarding with me. I currently have dogs, rabbits, cats and a snake on my client list!"
Kerry became a mum shortly after setting up her own business and says one of the best things about working for herself is being able to manage her own time, enabling her to spend lots of time with her 18-month old son;
"I love being my own boss and being able to arrange my day around my son's childcare arrangements. My childminder looks after him when I'm out walking the dogs, but other than that he's at home with me. It's a perfect set up for us and so different to how it could've been if I was still working long hours in the city, which would've meant hardly seeing him during the week."
What's the best thing about running your own Petpals business?
"Definitely being my own boss and being able to work my day around my son. Another bonus is that I get to spend lots more time with my mum these days, who, as one of my insured, uniformed, ID badged and CRB checked pet carers, joins me on lots of my dog walks.
"I also love the thanks and appreciation I get every day from my clients, who are trusting me to look after their pets; and of course from the pets themselves – it's so rewarding."
What would your advice be to anyone considering setting up their own franchise with Petpals?
"Just go for it! I'm so glad I made the jump. I'm a lot happier now than I was before and my quality of life has improved so much. Setting up a business can be daunting, but Petpals have always been there to provide me with advice and support along the way. I've never looked back."
For more information on new and resale franchises please call Petpals on 01264 326362 or contact us.