How to keep you and your pet active in 2022
27th December 2021
So with Christmas Day done and dusted, you might be starting to feel the effects of your over-indulgence of food and wine – but with the New Year in sight there is no better time to start thinking about your New Year's resolutions. If a more active lifestyle is on your list of goals then read on to discover our top tips on how to keep you and your pets active in the lead up to the New Year and beyond, into 2022.
Keeping active can not only help with you and your furry friends physical health but it is proven to benefit your mental health too. Staying fit helps to alleviate many of the health problems that are associated with extra body weight, and having your pet by your side is a great motivator to help meet your goals.
Walk

It may sound simple, but getting out for a short walk with your four-legged friend in tow can have enormous health benefits for you and your pet. Just 30 minutes of walking a day can boost heart health, improve energy and mood, fight weight gain and strengthen muscles and bones. This doesn't only apply to you and your dogs, cats need exercise too. Some cats will enjoy a walk – even if it's a few laps around the garden or exploring further afield with the use of a cat harness. Both cats and dogs enjoy exploring what nature has to offer.
Jogging or running

If you are looking for a higher intensity activity, then jogging or running could suit you. It helps with weight loss (if that is your goal) and strengthens your immune system. Again, it is another great mood booster, helping to reduce stress and anxiety and can even help you sleep better. The same applies to your pooch. Having your dog as your running buddy is a fun way to spend time together and helps you both keep in shape. If your dog is new to running alongside you then we advise you start off slow and keep sessions short to begin with. Ensure you have an appropriate lead and harness or a running belt to keep them safe. Over time you can build up your running sessions and you and your pooch can take on the world exploring the great outdoors together.
Water sports
If you and your dog are water babies then finding a fun water activity for you both to enjoy can have great health benefits.
Wild Swimming

It was the craze of 2021, yes wild swimming! It may be too cold to get out into the water this time of year, but you may want to consider enjoying this activity when the weather starts to warm up. It is a great way to get in some exercise, explore the local countryside and have fun with your four-legged friend. This emerging trend saw UK lakes and rivers full of both swimmers and their pooches this year, but it is essential you and your dog keep safe at all times. One minute of constant swimming is the equivalent of a one-mile walk, therefore swimming should be built up gradually and safely. It is vital you and your dog are fitted with a life jacket or float coat and never go out of your depths.
Stand up paddle boarding

Another recent trend to hit the UK shores is stand up paddle boarding. Also known as SUP boarding, it is a great low impact activity that combines balance, strength and endurance. Fantastic for your core and a great all-body workout, all the while benefiting your mental health as you tranquilly float along the water. Before attempting to learn a new sport with your dog make sure you are confident in your ability before bringing your furry friend along for the ride. There are many BSUPA certified instructors up and down the country that can help get you started in your new hobby. Remember to ensure you and your dog are fitted with a life jacket or float coat before you get started.
Kayaking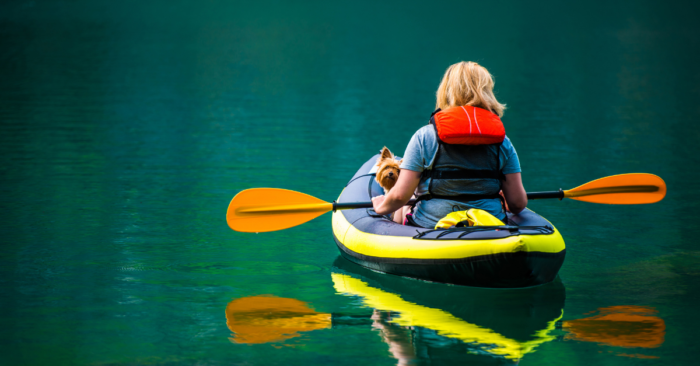 Enjoy the tranquillity of kayaking with your pooch. Kayaking requires virtually no training, and can provide hours of peaceful enjoyment and relaxation, all the while improving your aerobic fitness. Kayaking strengthens your core, increases your flexibility and tones your arm and leg muscles. Research has shown that just 20 minutes in nature can have drastic results in lowering stress levels. So, make kayaking with your dog your new activity in 2022. It may require an initial investment to buy a kayak but the physical and mental health benefits can make it all worthwhile. And once again, you've guessed it, always fit you and your pup with a life jacket before getting out on the water!
Doga

If water sports aren't your thing, then don't fear, Doga is here! Can you believe it has been 20 years since the invention of Dog Yoga? If you have never tried it before then think about giving this a go in 2022. With our fast-paced lives, it can be easy to forget to stop, breathe and relax for a moment. This is where Doga can help. A beneficial activity for both body and mind, all the while you get to have fun with your fur-baby. Doga is a fabulous core workout, and it helps to increase you and your dog's flexibility, balance and strength. Join a local Doga class or search for online Doga classes that you can do at home.
Games / Puzzles

With the cold and wet weather of present, it can be hard to motivate yourself to get outdoors. However there are many activities you and your pets can enjoy from the comfort of your own home. Get active by playing tug-of-war or hide and seek. Many dogs and cats will enjoy an agility course; make it fun by creating an obstacle course in your house or garden. Alternatively play fetch with your dog, make use of different rooms in your house to throw a toy and have your dog return it to you. Even running up and down the stairs can burn off lots of energy for both you and your pet. Or consider puzzle games for both your cats or dogs, this is a great way to keep them physically moving and also helps to stimulate their mind and alleviate boredom. Experts have suggested that just 20 minutes of mental stimulation can equate to 1 hour of physical exercise in pets.
So whichever activity you choose to take on in the new year, remember to involve your pet as they make excellent motivators and you are almost guaranteed to have more fun with them by your side.
For more information on how to keep active with your pets click the links below:
https://www.pdsa.org.uk/what-we-do/blog/get-moving-with-your-pet
https://www.dogstrust.org.uk/help-advice/behaviour/enrichment-ideas-for-bored-dogs
https://www.battersea.org.uk/pet-advice/dog-advice/brain-games-dogs