Areas of coverage includes:
Chineham, Lychpit, Old Basing, Sherfield on Loddon, Sherfield Park, Popley, South Ham, Black Dam, Oakridge, Rooksdown, Marnell and Basingstoke.
About Petpals Basingstoke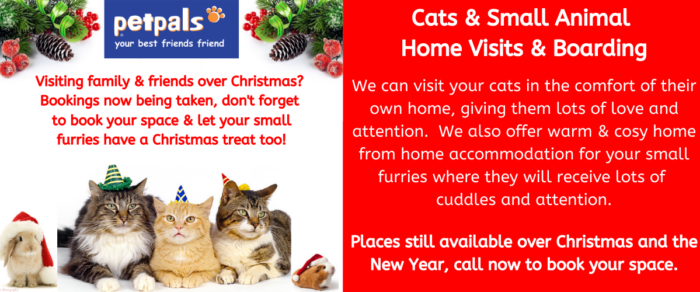 Hello and welcome to Petpals Basingstoke.
I am Alex (short for Alexandra) and I run our premium pet care service with support from my partner Phil. Within our family we have an 8 year old son, two cats – Genie who's 5 and Moko who's 2. We also have a number of tropical fish.
I have worked in the healthcare industry for many years most recently focussing on elderly care and people living with a learning disability. I decided to change course in 2016 caring for someone else who also features in your family – your pet(s).
While I was growing up I have had exposure to a number of different types of pets from piranha fish and guinea pigs to praying mantis insects. Great Danes to Spaniels. A number of different cats coming in all shapes and sizes. Terrapins, tortoises, along with goldfish and tropical fish.
Being in a full time working family I completely understand that you are very busy and that you cannot always be around for your pet. That's where I come in, I can care for your pet when you can't.
Whilst offering a professional and friendly service I also understand that I am taking responsibility to look after two of your most precious things – your home and your best friend! Any pet I care for will be treated as if it is part of my own family. I also believe it is very important that you have peace of mind and comfort that comes from using a national company, recognised as the UK's leading provider of home from home and in your home, pet care services.
At Petpals Basingstoke we are fully trained, security checked, uniformed and insured. I drive a branded van with professionally fitted secure cages and am able to offer a flexible and friendly service tailored to the needs of you and your animals. The services include dog walking, pet sitting, dog sitting and cat sitting. Boarding for hutched or caged animals or home visits for smaller/other animals. Puppy care/letting out service, elderly pet care and home sitting. Pet taxi and pet to vet service. I am also happy to administer any medication.
Petpals Basingstoke services:
Discover the full range of pet care services that Petpals Basingstoke offer
Training & Experience
Alex Mees has completed training in the following:
Pet Handling and Restraint
First Aid
Care of Older Pets
Pet Sanitation
Your pets are 100% safe, this franchisee is:
Criminal Records
Checked

Insured

ID Badged